Automating your work processes with digitised forms
Does your business still use paper-based forms? If so, I'd like to talk to you about digitising the forms that your employees use.
It is frustrating for employees and bad for efficiency when your team are spending too much time on paperwork and less time on the key functions of their job.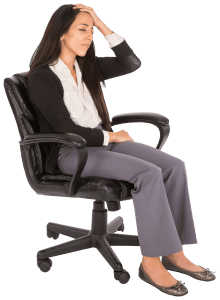 Scenario
Katie the receptionist has a minor injury when her chair malfunctions. She doesn't fill in the paper-based incident form because she is too busy to
(a) find the form
(b) fill in the form
(c) scan, submit and file the form
She doesn't think it is worth the effort and quite frankly, how much paperwork gets filed and never looked at again?
However, if the company was using an online incident report form, Katie would be more likely to document the incident because it is quicker and easier.
The magic of online forms is how data is collected and managed. So, let's consider in this scenario that the chair Katie was using has a design fault and there have actually been quite a few similar issues across the business with the same model of chair. Because the data highlights trends with incidents, it is much easier to identify and prevent risks.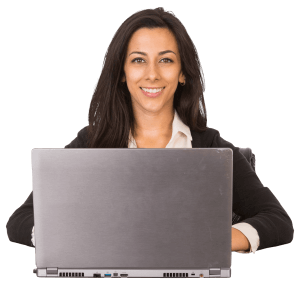 If we put our mind to it, there is likely a wide variety of uses in our business for electronic digitised forms;
Surveys and feedback forms

HR forms

WHS forms

Incident and complaint reports

Compliance and audit checklists

Performance review and management documents
Imagine the range of trends that could be highlighted using these forms and how efficient your work practices could be! And imagine how easy writing your reports will be with easy access to this data?
Using online forms;
Kill less trees and saves on printing costs

Makes data handling more compliant, easier and efficient

Increases compliance because the correct form is always the one used and you can set up your forms so that people can't miss important questions
Digital forms are quick and easy to access and can be submitted on mobile devices. This means that your mobile workforce can utilize the same tools as those who work in your offices.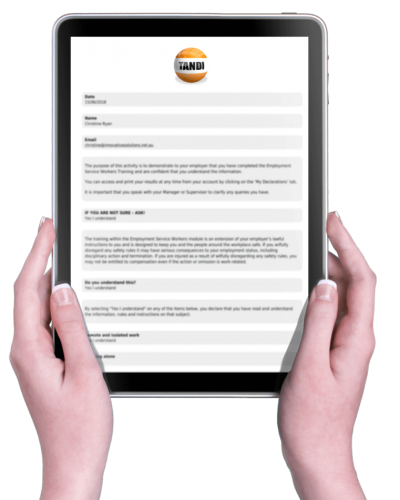 TANDI has an online form application that is fully managed, which means we do all the work for you;
Simply give us your current forms and we'll convert them for you

We will create a document library for your teams to access (yes we can create different libraries for different roles within your business)

We will set up email notifications so you can be notified when important triggers are hit.

We will et up your dashboard so you can easily manage your teams and data.
TANDI forms can integrate with your employees TANDI online training and/or our VOC (verification of competencies) applications.
Your employees will have their own dashboard and can access the forms they have submitted as well.
We are creating a pretty dynamic work place for your business at TANDI, so why not give us a call about how we can help you automate your business or send us a contact request.