Quad bikes – Tips to stay alive
Quad bikes are very popular on farms because they are tough and versatile. However, they are also a leading cause of serious injuries and death in rural workplaces with most accidents involving a rollover.
Why so many accidents?
Quad bikes are light-weight, powerful and their high centre of gravity and narrow wheelbase increases the risk of a rollover, even at low speeds. Rocky or uneven ground combined with speed dramatically increases the risk of an accident.
Attachments further add to the instability of a quad. This is especially true for mounted or trailed tanks as the liquid can shift as you turn or whilst moving up or down a hill.

Is a Quad bike the right choice for the job?
Quad bikes are not for all jobs and you should consider whether another vehicle can be used instead – e.g. ute, side by side vehicle or a small tractor.
Many farms are now replacing quads with side by side vehicles. Side by side vehicles are a safer option as they are more stable and less inclined to rollover. They are also fitted with a rollover protective structure, seat belts and designed to carry passengers and small loads.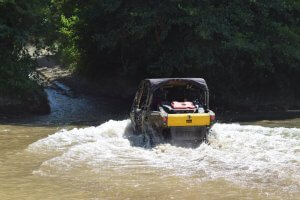 Top-Tips to prevent quad bike injuries and deaths
DO NOT operate a Quad unless you have received appropriate training
ALWAYS wear a helmet
SLOW DOWN, especially if you are on rough, uneven ground, slopes or unfamiliar terrain.
AVOID towing attachments or carrying loads
DO NOT carry passengers on a Quad
NEVER operate a vehicle while under the influence of drugs or alcohol
NEVER access 'no-go' areas on the farm
Training
Riding a Quad bike is physically demanding. To maintain control, you need to adopt an active riding technique and constantly shift your body weight.
If you have not received appropriate training or if you are not physically fit, it can lead to fatigue and an inability to keep control of the bike, often resulting in a rollover – the leading cause of quad bike deaths.
A national unit of competency (AHCMOM212A Operate Quad Bikes) is available nationally from a range of public and private training providers.
Training can also be workplace specific and may be suitable if delivered by a competent person.
How can I minimise the risk to my workers?
While it is difficult to completely eliminate the risks in a workplace, strong systems and processes, including a solid induction training program will have a large effect on the probability of an accident or incident happening.
A well-structured induction program is one of the most effective and efficient ways to bring new recruits up to speed on safe work methods.  Employees learn the right way of doing things from the beginning, minimising the risk of costly mistakes, while increasing productivity.
Wouldn't it be great if your new recruits could come in on the first day already trained? For a lot of organisations, TANDI online induction training has proven to be the safest and most economical way to manage their new employee induction training.
Find out how you can Induct & Train your new workforce fast online here or check out TANDI's low cost pricing here.

Knowledge is one of today's key assets. So why not forward this on to your friends and colleagues? Share knowledge and help people connect with one another.