Risks for Hospitality Service Personnel
There are many safety concerns for wait staff and incidents like the one shown in this video can easily happen in our busy, crowded work environments. Unfortunately I myself had an extremely embarrassing incident many years ago where I dropped a tray of drinks onto the guest of honour at an event . . . he ended up being the Prime Minister of Australia and I ended up being spoken to rather sternly by my Manager!
Typical injuries for hospitality service personnel are cuts, burns, scolds, electrocution, musculoskeletal injuries, skin reactions, occupational violence, dehydration and fatigue.
Common risk factors for hospitality service workers are;
Lack of supervision and training.
Young and/or inexperienced workers.
Casual and adhoc employment.
Long and physically demanding shifts.
These factors often combine to make our workplaces particularly hazardous.
What can businesses do to prevent employee injuries?
Ensure that your team members are trained by an experienced and qualified person. Ensure the training is consistent and thorough.
Have an enforced uniform policy to ensure your wait-staff's footwear is appropriate.
Ensure there is enough room between tables for wait-staff to navigate safely.
Ensure the flooring is even and clear.
Manage your employee rosters so they have adequate breaks.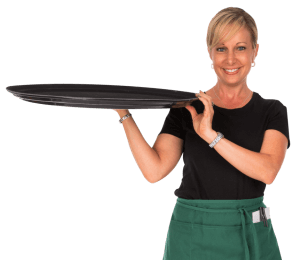 Employees also have a responsibility to ensure their personal activities do not result in impaired performance at work.  This can refer to lack of sleep, fatigue, use of medication and drugs and/or alcohol consumption.
Employees should be encouraged to speak with their supervisors if they have questions or concerns, or if they are unfit for work.
TANDI Online Employee Inductions include both Workplace Health & Safety and HR Policies & Procedures, so employees are informed and responsible for themselves.  This comprehensive employee training will reduce the risks of injuries and litigation.
The induction course incorporates industry and role specific safety training, including a module for Hospitality Service Personnel. Other Hospitality safe work practice modules include Cleaners and Housekeeping & Kitchen and Catering. All of these modules (and more!) are included in the induction package at no additional cost.
To find out more about our induction software, CLICK HERE