Social Media and your Business
Having a social media presence is a must for most businesses. It can be used to validate your brand and engage with a wide range of customers and stakeholders. Social media gives businesses a unique opportunity to tell their story and promote their culture, creating customer loyalty. It can also be done on a shoe-string budget, which makes social media marketing available to all business sizes.
Big business is definitely using social media as a primary marketing tool; Seek are currently advertising over 2800 vacancies in Australia, where the primary task of the role is to work on the organisation's social media activities.
All businesses can use social media to glean valuable feedback from customers, increase brand recognition and increase search engine rankings.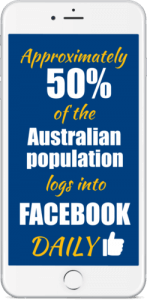 7 in 10 Australians use Facebook

1 in 2 Australians use Facebook on a daily basis
1 in 2 Australians use YouTube
1 in 5 Australians use Instagram
1 in 6 Australians use Snapchat
However I'm sure we are all aware that having a social media presence is a double edged sword. There are daily examples of what can go wrong. An entire book could be written about the Twitter posts of Donald Trump, but there are many examples on a local basis where social media has been damaging to a business' reputation; during NAIDOC week this year, a post by an Indigenous artist went viral after she posted her dismay at Qantas because they didn't want to pay her for art work, which Qantas wanted to use for their NAIDOC celebrations. This was bad press for a company which has invested significantly in implementing their Reconciliation Action Plan. One poor decision or one post written in anger, can undo a lot of hard work.
Managing negative press
How we respond to customer feedback is an important element to the success of our social media strategy. We cannot control what people post about us on social media, but we can develop strategies for dealing with the feedback.
Good customer service workers are skilled at turning a disgruntled customer into a loyal customer, because of the way they deal with complaints. Social media has the same potential. Every angry customer has the potential to be converted and so do the people watching the post.
Be objective and not defensive.

Listen to what is being said and ask questions to make sure you really understand what the issue is. 

Follow up. Check in a week later to confirm that the situation has been resolved.
Take the conversation out of the public forum; phone, email and private messaging (after you have acknowledged the post in the public forum)
Always be polite, even if the other party is being malicious and unreasonable.
This negative feedback is an opportunity to create improvement within your business; thank the complainant for taking the time to provide the feedback.
Always respond, unless it is trolling.
Is there a WOW FACTOR you can do to show you care? Can you do something a bit special to compensate or thank them?
An example of what not to do; 
TripAdvisor Review: "Would I use this place again? Only if the horses from hell dragged me there."
The Response: "Thanks for your money, sucker. Long may the idiot line continue."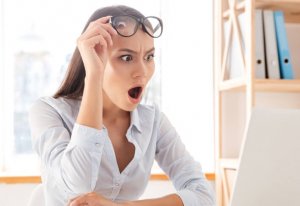 Tips 
Don't use other's misfortunes to sell a product . . . for example, Woolworths had a huge backlash for using the ANZACs for social media marketing.
Be wary of Q&A discussions – trolls love these.
Check and test before you publish.
Work with your millennials – they know what is working and current.
Make sure your security systems are in place – avoid hackers.
Have a Social Media Policy in place and ensure your team members know and understand the policy. This policy should include the requirement that employees can not post negatively about the business, even on their personal social media accounts.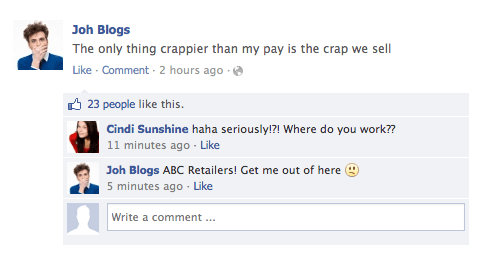 The standard TANDI Online Employee Induction training includes HR Policies and Procedures AND Workplace Health and Safety. A Social Media Policy is just one of the many policies that are included in this training.
TANDI provides out-of-the-box employee induction training that is both comprehensive and easy to use;
Purchase the number of licenses you need.
Assign the training to your employee/s – you just need their email address.
Monitor their training via our reporting system and check for training comprehension via our Declaration system (also a good tool for performance management).
To find out more about TANDI Online Employee Inductions CLICK HERE or contact us at sales@tandi.com.au or call 07 4050 3810