TANDI Improves Productivity
Developing and facilitating employee training can be time consuming and tedious. With so much paperwork and repeated processes, managers are often tied to admin tasks rather than doing core business functions.
That's where our eLearning platform can help.  TANDI has a wide range of practical courseware to induct new employees into most industries or we can create a perfect fit for your organisation.
We will help you set up your training library, enabling you to easily monitor employee compliance and progress.
The TANDI Learning Management System includes not only online courses, but digital forms and an integrated communication tool to help you automate your employee training.
Standard Induction or Specialised?
TANDI is ideal for businesses who need a consistent induction process. One where all employees come on board with a sound understanding of expectations and behaviour. If this is you, then you need a TANDI subscription.
Alternatively TANDI has a wide range of Specialised courses
Employee Induction Products
Ready-to-use role/industry specific Employee Induction packages
Agriculture

Hotel and Accommodation Services

Health, Community and Human Services

Retail Services

Warehousing
Cleaning and Housekeeping Services

Restaurant and Catering Industry

Employment Service Workers

Office-Based Workplaces

Design your own (we'll help you do it)
Each of these online training modules have progress tracking,
administration and reporting functionality (so you can instantly see who
has and hasn't completed their training).
PLUS you get access to our online TANDI Business Document & Resources
Library. It's the easy way to deliver staff training anytime, anywhere.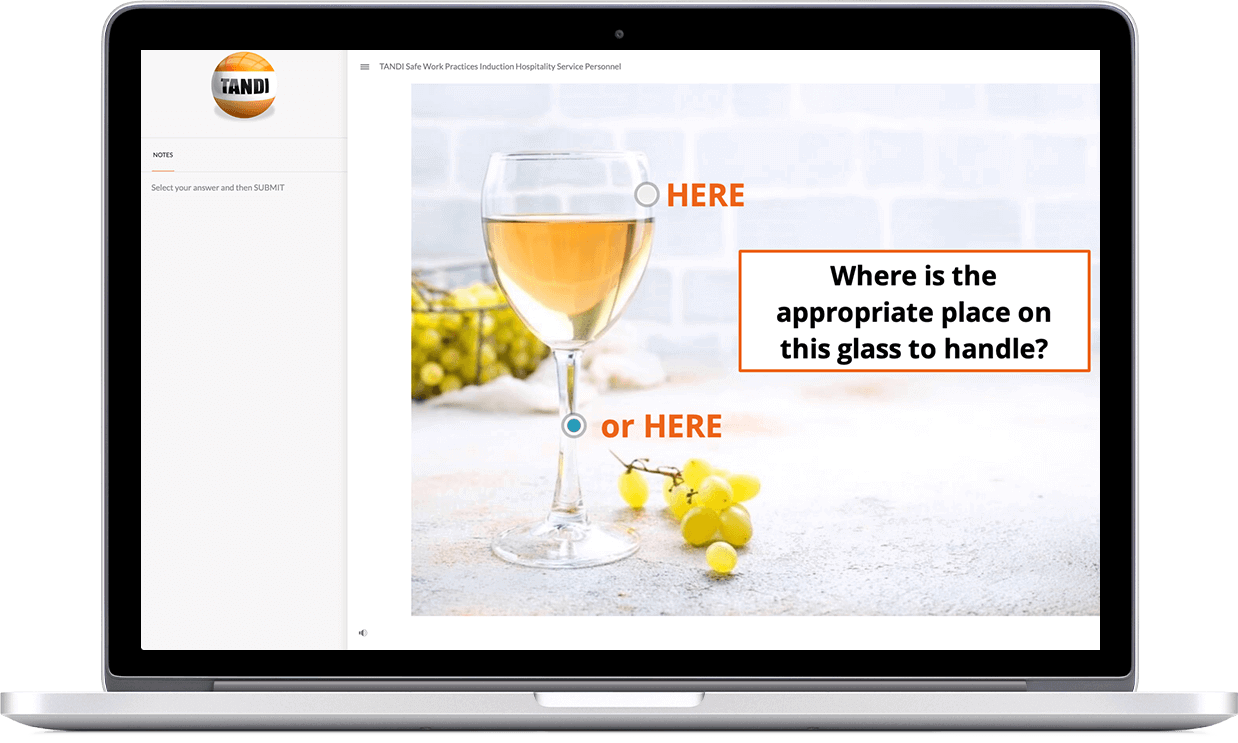 Customisation and Add-Ons for a complete solution
Training Products
Employee Inductions – TANDI Onboarding Essentials
Reverse Marketing for Employment Consultants – TRAINING COURSE
Motivational Interviewing for Employment Consultants – TRAINING COURSE
FREE COURSE – Creating Safe Workplaces and Limiting The Spread of Covid-19
Working Safely from Home – Employee Policy Training
Customisation and Add-Ons
Add Your Company Logo to ready-to-use modules
Add your company logo to our 'ready-to-use' training courses
Business Introduction Module
Need Something Specific?
TANDI has in-house specialists to help you with any component of employee training and we love a challenge, so contact us to discuss your needs today.
Need a customised solution for your business?
Our expert curriculum advisors are more than happy to create a custom training package to suit
your individual business needs.
We'll combine fully compliant processes and documentation with your own content and style to
create a package that you can use time and again.
Here's what our clients say:
Peace Lutheran College recently transitioned our inhouse induction training program to TANDI and we are pleased we did so. The overall transition went smoothly and technical support was always available to provide prompt assistance. The administration and reporting functions allow us to easily add new employees and view their training progress in real time.
The TANDI platform is intuitive and easy to use which allows our team to access up-to-date training without the need to install software. Being cloud-based, our employees can access the training from anywhere, making the induction process a less cumbersome task for both participants and administrators.
Meegan Nielsen
Peace Lutheran College
Facilimate Hotels recently transitioned our contractor's onboarding training program to TANDI's online LMS (Learning Management System)
With the assistance from TANDI's inhouse WHS expertise, they helped us design an appropriate induction program for contractors working at our Pacific branded hotel operations. The end-product is of excellent quality.
We have found TANDI to be simple, reliable and easy to use and has helped us train our contractors across multiple locations in Australia.
Vanessa Anderson
Facilimate Hotels
When we opened our second restaurant, Dundee's at the Aquarium, we wanted to induct our new at a much faster pace, so we could focus on providing great food and service, whilst knowing that essential Safety and HR training had been done.
For Dundee's, changing from our paper-based training system became a business priority and led to contacting TANDI for a customised online induction program. 
Through our conversations with TANDI, we quickly identified key objectives of the training to address some of the unique challenges we face as a leading restaurant in Cairns. The ready-made training modules in the TADNI library are great, so we just needed to tweak some of these modules to suit our unique circumstances. We found this a very cost-effective solution as creating online training from scratch is very expensive and cumbersome. The TANDI team were fantastic throughout the customisation, setup and deployment of our new training platform.
After having implemented TANDI's online induction program, we are seeing host of benefits for clients, staff and the business.
We could not be happier with the service TANDI provided and their online Learning Management System has lifted a huge weight off our shoulders.
Tina Wort
Dundees' Restaurant Group
Worklink have been using the Job Seeker Engagement Tools for Employment Services for group sessions for over a year now. We really appreciate the fact that they are professionally designed, engaging, easy to use and have all the resources attached to run the sessions. Anyone can deliver training with these tools.
Stephanie Coleman
Business and Social Enterprises Manager – Worklink
TANDI is a simple, reliable and easy to use interactive learning platform that has helped us train our staff across multiple locations.
TANDI's ready-made WHS and HR induction training products are of excellent quality and we also like that they offer specific safety training for our industry (Warehousing).
We will continue to leverage TANDI's technology for our learning requirements to make the onboarding process easier and better.
Negin Hudson
HSY Autoparts
Henry Schein provides Australian Dental Professionals with many of the best dental products the market has to offer. As technology continues to evolve, we know that you need innovative solutions in your practice. That's why we partnered with TANDI in an effort to stream-line the induction training for our teams across Australia and New Zealand.
TANDI provided great service and support during the process and the quality of the training modules are first class.
Using TANDI's online LMS we are now able to deliver, manage and report on induction training from a single platform, all in real time.
Renzo Trivarelli
Regional Safety, Security and Facilities Manager
Henry Schein
ANZ